Press
SBPRA Author Bashir Adepoju Bakare and Diamond Pen International receive recognition by Nigeria's esteemed newspaper, THISDAY. Formerly known as African Writers Bureau, Diamond Pen International works to empower writers in Nigeria. The organization is led by one of our own SBPRA authors, Bashir Bakare (Bash Bakr), Diamond Pen International. He is making Nigerian writers' dreams into reality by offering different events and workshops to young aspiring authors in hopes of helping them grow and learn.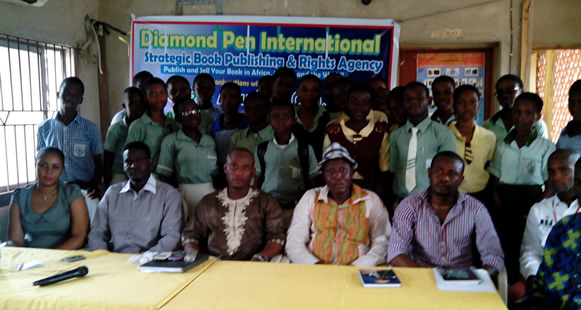 THISDAY featured Mr. Bakare and his organization in its web version. The article, titled "Rallying Writers for Development,"
http://www.thisdaylive.com/articles/rallying-writers-for-development/177733
He talked about some of the difficulties Nigerian authors face during their writing career and credits Diamond Pen International as the remedy to this problem. THISDAY reporter, YinkaOlantunbosun, met Mr. Bakare and talked at length with him about the organization and its marketing plans. The main target of Diamond Pen International, as Mr. Bakare so eloquently put, is "the youths whose young creative minds need to be fed with rich literary truths of the transforming power of the pen." We at Strategic Book Agency couldn't have said it better ourselves.
Mr. Bakare has organized various programs to increase awareness of the African author scene. Most recently was a training workshop held in in Lagos, Nigeria. With the help of Strategic Book Agency(SBRPA), Diamond Pen International was able to bring African authors an informative series of discussions from top industry professionals. Mr. Bakare wants to bring African literature the amount of recognition it deserves. It's through events like these that he is able to do so.
A notable quote from Mr. Bakare from the THISDAY article shows just how passionate and determined he is: "Through our partners, we believe that we will help African authors join the world and maybe, we will find the next global star. I believe if we can come together, join forces in the quest to promote thousands of African writers, not just one, or the few who were privileged to win a national or international award. We need to do more to make the industry vibrant and attractive to all."
Mr. Robert Fletcher, CEO of Publish On Demand Global and SBPRA, USA said, "we are delighted to work with Mr. Bakare. We see Africa as a great market to establish in partnership with Diamond Pen".
We anticipate great things to come from the work Mr. Bakare is doing to promote the African book industry. We are glad to be on board with our publishing, distribution, and marketing services, all of which we gladly offer to each and every one of you.
To contact Mr. Bashir Bakare about getting involved with Diamond Pen or for more information on the publishing, distribution and marketing services available to you, please e-mail bbakree@SBPRA.net. For UK phone inquiries, please call +447440128855. For Nigeria, please call +2348171101336.
Thank you,